History
Kelantan was known from earlier times as a seat of powerful kingdoms, which established trading links with the Chinese Empire. Early Chinese records indicate the existence of trade links with China, which referred to Kelantan as Ho-Lo-Tan. The state has at various times in the past been a vassal of Siam. In the 18th century, a Kelantanese Prince, Long Yunus, ascended to the throne and the present-day royal family is descended from him. Kelantan along with the other states of the Malay Peninsula formed the Federation of Malaya, which gained its independence on 31st August 1957.
Physical Geography
Kelantan neighbouring states are Perak on the west Terengganu on the east and Pahang on the south. She offers tourists recreational activities, scenic spots and pastimes such as top.
Introduction
Reputed to be the cradle of Malay culture, Kelantan offers a delightful profusion of colourful traditions, charm and scenic beauty to the visitor. Located in the northeastern corner of the Peninsula, Kelantan is an agrarian state with lush paddy fields, rustic fishing villages and casuarinas-lined beaches. With a population of around 1.5 million, Kelantan is primarily a Malay state although around 7% of the populations are of Thai, Indian and Chinese ancestry. The Kelantanese have carefully preserved their customs, traditions and craft skills over time. One might be pleasantly surprised to see adults, indulging in pastimes such as flying giant kites or spinning giant tops. Renowned for their warmth and hospitality, the Kelantanese display an old world charm that captivates visitors.
Economy
The economy of Kelantan is based on agriculture with rice, rubber, tobacco and fruits being the main cash crops. Fishing, fish and livestock rearing are also important economic activities. Timber production provides a substantial revenue to the state and gold is still mine is small quantities. A thriving cottage industry produces extremely fine batik material and paintings, exquisite gold and silverware, intricate wood carvings and beautiful 'kain songket' (cloth woven from gold and silver threads). Leather working and mat weaving from pandanus leaves are also local trades. Tourism is growing in importance as the state has a wealth of attractions such as home stay programmes a rich heritage of culture and traditions, eco-tourism packages and fine powdery beaches.
Cultural Heritage
Kelantan a state whose people are steeped in tradition, is also a seat of the Malay culture.
Dikir Barat
It is a verbal art form-a matching of wits between two teams of not fewer than 10 persons each. Each team has a leader and they weaves in a continuous stream of impromptu, rhymes verses ridiculing and pinning down the arguments of the opposing side.
Mak Yong
It is a traditional dance drama that is a combination of ballet, opera, romatic drama and comedy. In Mak Yong plays, mainly women perform all the main characters, with only three men. An orchestra accompanies this drama, usually lasts for approximately two hours. The spontaneous dialogue is coupled with bantering on current social issues.
Rebana Festival
It is a colourful event held in a vast field after the paddy harvest. In this event, there are two or more teams competing for the best costumes, drum decorations and music. Each team comprises 12 drummers and six drums. Their music is assessed according to the categories of sound tone and reverberation.
Top-Spinning
It is an adult sport where it requires lots of strength and skills. Top spinning is a craze among villagers after the paddy harvest when several villagers challenge one another to a fest of skill.
Transportation
By road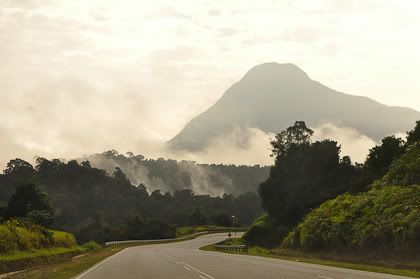 There is an excellent network of roads linking major towns in Peninsular Malaysia to Kelantan. From Kuala Lumpur, the overland route takes one eastward along the Karak Highway to Kuantan in Pahang, a journey of about 3 hours. The rest of the journey from Kuantan to Kota Bharu takes about 4 1/2 hours. The route heads northward along the coast passing through picturesque villages providing scenic vistas of the palm-fringed beaches overlooking the azure waters of the South China Sea. The in land route to Kota Bahru turns off the Karak Highway at Bentong and proceeds northwards to Raub and then to Gua Musang, before reaching Kota Bharu. An alternative route exits the Karak Highway at Temerloh and passes through Jerantut, Benta and Gua Musang en-route to Kota Bharu. From Penang, one has to get to Grik via Sungai Petani in Kedah and then travel along the scenic East-West Highway to Jeli in Kelantan before continuing the journey to Kota Bharu. There are regular air-conditioned express bus services operating from Kuala Lumpur and major towns to Kota Bharu.
By rail
Train services from Kuala Lumpur to Kelantan terminate at Wakaf Bharu and Tumpat. From these two points, one can get to Kota Bharu either by taxi or bus. Stop over points en-route include Gua Musang, Kuala Krai, Tanah Merah and Pasir Mas. Once you are in Kota Bharu, it is relatively easy to get to nearby districts, as regular bus and taxi services are available from the main bus terminal. For those who are interested in visiting places of interest in the interior of Kelantan, it is advisable to enquire with the Kelantan State Tourist Information Centre or any registered travel agent in Malaysia.
By air
Malaysia Airlines operates daily flights to Kota Bharu from Kuala Lumpur and Penang. Pelangi Air also flies daily to Kota Bharu from Kuala Lumpur.
Places to Eat/Special Foods
Kelantan boasts its own unique cuisine with many popular dishes such as Ayam Percik, Nasi Kerabu and Nasi Dagang being indigenous to the area.
Ayam Percik
A favourite with locals and visitors alike, this barbecued chicken is marinated with rich, spicy coconut gravy.
Nasi Kerabu
This dish is made of rice coconut milk, flaked fish, desiccated coconut and some varieties of herbs, spices and sauces.
Nasi Dagang
A type of rice with a brownish tinge steamed with coconut milk and served with rich spicy fish gravy. Food stalls and restaurants abound in Kota Bharu and other larger town and hawkers selling snacks can be found along every road. Kota Bharu's Chinatown, located at the junction of Jalan Padang Garang and Jalan Pengkalan Chepa has fine traditional Chinese noodle dishes, among others. Outdoor dining at food stalls is something not to be missed in Malaysia and visitors to Kota Bharu must try the food stalls at Padang Bas in the town centre, which serves traditional fare from 6 pm to midnight.
Places Of Interest
The best place to appreciate Kelantanese culture and crafts is the capital city, Kota Bharu. A bustling town famed for its ornately decorated trishaws, Kota Bharu offers numerous attractions for the visitor.
Cultural Centre
Located on Jalan Mahmud close to the Perdana Hotel, the cultural centre is a veritable showcase of the living heritage of Kelantan. Demonstrations of popular folk arts and pastimes are held daily. Wayang Kulit (shadow puppetry) shows, Silat (the Malay art of self defence) performances, Gasing (top spinning) displays, Wau (kite flying) and Rebana (Giant Drum) playing can all be seen at the centre. Evenings see cultural performances featuring traditional Malay music and Wayang Kulit. The cultural centre is open three times a week from March to October each year.
Performance time are 3.30 pm to 5.50 pm on Monday, Wednesday and Saturday and 9.00pm to midnight on Wednesday and Saturday.
Historical Zone
Istana Jahar Kelantan
The main cultural and historical zone of Kota Bharu is situated along Jalan Hilir Kota and Jalan Sultan where many museums and heritage buildings are located.
Conveniently located within the cultural zone in Kota Bharu, the museum is easily accessible from Jalan Sultan and Jalan Hilir Kota.Built in 1887, Istana Jahar was a gift from Sultan Mahmud II to his grandson, Long Kundur. Today, this palace is known as the Museum of Royal Traditions and Customs.
An epitome of the uncompromising standards of Kelantanese wood craftmanship, this beautiful palace is adorned with intricately carved wooden panels. A tour of this museum will reveal the grandeur of the Kelantanese traditional ceremonies and customs. Inside, visitors can find an extensive collection of Kelantan's historical documentation, rare artefacts, photographs and exhibits which portray the state's rich cultural heritage.

Some museums charge a nominal fee for admission.
Royal Museum/ Istana Batu
The Istana Batu (Brick/ Stone Palace) was constructed in 1939 during the reign of Sultan Ismail. It houses the Royal Museum and was previously used as the venue for royal weddings and as a guesthouse for visiting royalty. The Royal Museum now serves as a repository for the history of the Kelantan royal family and displays regalia, pictures, silverware, furniture and palace items of former Sultans.
Opening times 8.30am to 4.45pm daily-except Fridays.
Istana Jahar
Built in 1887 by Sultan Mohamad II for his grandson, Long Kundur, the Istana Jahar has been transformed into a museum featuring Kelantan's cultural heritage. Photographs and a great variety of artefacts bear testimony to the rich Kelantanese cultural legacy. The building itself is laced with intricate woodcarvings, serving as an example of the fine craftsmanship of local artisans.
The Islamic Museum traces the history of Islam in Kelantan. Exhibits include Islamic Arts and crafts and photographs of some of the personal belongings of Prophet Muhammad and Islamic historical sites. The museum reflects not only the position of the state as a centre of Islamic learning.
State Museum
The State Museum located along Jalan Hospital incorporates the State Art Gallery. The building itself was utilised as the land office from colonial times until 1990 when major renovations were carried out to convert it into a museum. The museum documents the arts, crafts and musical traditions of Kelantan. Ceramic displays testify to the early trade with China and artefacts from local archaeological sites provide evidence of the existence of the pre-historic age in Kelantan.
World War Two Memorial/ Bank Kerapu
Originally constructed in 1911, Bank Kerapu is now a repository for documents, pictures and military paraphernalia of the Japanese Occupation from 1941 to 1945. During the war, the building served as the headquarters of the Japanese Kempetai, the feared secret police.
Handicraft Village And Craft Museum
Handicraft Village and Craft Museum is located in the heart of Kota Bharu's cultural zone, the Handicraft Village is a walking distance from the Istana Balai Besar and the Buluh Kubu Bazaar. It is easily accessible from Jalan Sultan and Jalan Hilir Kota.

Visitors to the Cultural Centre will be treated to activities such as kite-flying contests, which is also known as wau, top, which is also known as gasing, spinning competitions, puppets shadow plays, which is also known as wayang kulit, traditional Malay dance and band performances.


The adjacent Handicraft Village provides visitors the chance to see just how these crafts are made. Demonstrations of traditional embroidery, songket weaving, batik printing, silver work and wood carving are carried out by skilled artisans. Their products are also on sale at the centre.
State Mosque
Construction of this mosque was completed during the reign of Sultan Ismail IV after almost a decade of work. Also known as the Al-Muhammadi Mosque or the 'Brick Mosque', it is the centre for Islamic missionary activities in the state.

Istana Balai Besar
Built by Sultan Muhammad II in 1840, the Istana Balai Besar was formerly the residence of past Sultans. However, it is now used solely as a venue for official state functions. The palace boasts a large audience hall, a throne room and a fine collection of royal regalia.
Merdeka Square
Other interesting sites in Kota Bharu include Merdeka (Independence) square, State Government officers and raft houses along the riverbanks.
Kuala Krai Museum And Mini Zoo
Located in Kuala Krai about 64 km from Kota Bharu, the mini zoo is home to a variety of animals such as bears, deer, monkeys and birds. The mini museum houses a collection of preserved animals as well as photographs and documents relating to the founding of Kuala Krai.
Opening hours: 9.00 am- 6.00 pm daily (except Fridays).
Fishing Village
Fishing village a visit to one of Kelantan's quaint fishing villages should not be missed. Two well-known villages are Kuala Besar and Kampung Sabak, both only 15 km the capital. Fishermen normally put out to sea at dawn and return in the early afternoon to sell their catch on the beach. Haggling over prices and the sorting and weighing of the catch provide an interesting cacophony against the picturesque backdrop of gaily-painted boats lining the beach.

Natural Attractions
River Cruise
Tourist visiting Kota Baru in Kelantan can now opt for a river cruise along the Kelantan River. The Kelantan Tourism Association and two private companies teamed up to introduce the cruise in March in conjunction with Visit Kelantan Year 2008. The three parties decided to pool their resources following a call from the state government for more tourism products, Kelantan Tourism Malaysia director Muhammad Zaki Talib said.
The two-hour cruise is on a RM600,000 boat called Seroja which has an air-conditioned cabin that can seat 40 people, a cafe and karaoke facility. The cruise starts at Seroja Jetty near Tesco hypermarket and takes passengers to the Kuala Besar fishermen jetty, 15km upriver, before turning back to Seroja Jetty.
Among the sights along the way are old temples where traders from China were said to have stopped over before they headed down to Malacca in the past. Passengers will also be able to see local residents taking part in recreational activities such as angling, horse riding and picnics on the riverbank. At Kuala Besar, they can buy both cooked and raw seafood at the wet market there before returning to Seroja Jetty.
There is currently one trip on Friday and Saturday departing at 5pm on both days. The trip costs RM15 for adults and RM7 for children aged between three and 12. Groups can request for trips at other times.
Cruise operator Azhisham Mustapa said tour guides had been hired to give a commentary during the cruise.
He said there were packages for students, newly-married couples, birthdays or corporate events.
Jelewang Waterfalls
From Dabong you may return to Kota Bharu by train or, head to Jelawang for jungle trekking. Chalets are available and various jungle trails have been laid. A 1 1/2 hour trek will take you to the spectacular Jelawang Waterfalls. Gua Musang is another alternative that can also be reached by train. Well known for its limestone caves, cave temple and the Lata Beringin waterfalls, Gua Musang is only a 2-hour drive from Taman Negara (The National Park).
The Kedasar Inn, located at Gua Musang old town can arrange visits to a goldmine, a deer park, an ethno-botanical garden and aboriginal settlements as well as organising river rafting and cave explorations. A summer camp, complete with various obstacle and fitness courses, provides leadership and youth training programmes.
Kuala Koh
Kuala Koh, two hours drive from Gua Musang is the northern entrance to Taman Negara and serves as the Park Headquarters in Kelantan. Chalets are available at Kuala Koh, and a small restaurant serves basic fare. Arrangement for guides, however, should be made through an accredited tour operator in Gua Musang, where transport can also be arranged to Kuala Koh, if required.
For bird watching enthusiasts, it is possible to see quite a variety of birds in a couple of days and for anglers, the pristine river offer some excellent sport fishing. The whole area offers superb opportunities for photographers, the diverse flora and fauna in the emerald forest providing perfect settings, colours and contrasts.
There are many river-based activities around Kuala Koh. Kayaks, bamboo raft and inflatable can be hired. However, anyone planning any serious river activities should check with the wildlife and National Parks Department at Kuala Koh on river conditions before setting off.
A new trail has also been laid to Gunung Tahan, the peninsula's highest peak, from Kuala Koh. It is actually a long and arduous trek rather than climbing as such, and is an excellent alternative to the more well known trails. There are, however many other jungle trails of varying distances and degrees of difficulty within the vicinity. And for those who wish to view life at the top of the jungle, a canopy walkway has recently been completed adjacent to Kuala Koh.
Waterfalls
Waterfalls in Kelantan are major attractions for picnic and swimming. Jeram Pasu is just off the Kota Bharu-Pasir Putih road while Jeram Lenang is off the Pasir Putih-Machang road. Lata Beringin, with its 120-metre drop, cool waters and lush vegetation is most spectacular and is found off the Kuala Krai-Gua Musang Highway.
Gunung Stong
One of Kelantan's highest mountains, at 1,442 metres, it is reputed to hold hidden treasure in Gua Ikan (Fish cave), named after a solitary fish-shaped rock. The treasure is said to have been hidden during the Japanese Occupation.
Beaches
Pantai Cahaya Bulan
Formerly known as the beach of Passionate Love, this is a picture post card beach. Tall casuarinas trees fringe the beach providing shade and a grassy verge, which gives way to tall swaying coconut palms. Comfortable chalets are available at the beach.

Pantai Seri Tujuh
Located in the Tumpat district close to the Thai border, this pristine beach is sheltered by the longest lagoon in Malaysia. Home to the annual International Kite Festival, the beach has a variety of food and drink stalls as well as public amenities.
Pantai Sabak
As well as being a rendezvous for fishing boats, Sabak Beach boasts fine golden sands fringed by coconut palms. It is a perfect spot to picnic and relax while observing the return of the fishing boats. Gentle waves lap the shore while the water is warm and clear.
Pantai Irama
Approximately 30 km south of the capital in the Bachok district, Pantai Irama offers choice picnic spots and eating stalls. It is reputed to be one of the most beautiful beaches along the East Coast.
Pantai Bisikan Bayu
About 50 km from Kota Bharu in the Pasir Puteh district, both north and south of the village of Semarak, the gentle breezes rustle the casuarinas needles producing a hushed sound. Surfing can be good at certain times of the year, and wind surfers will find excellent sport.
Shopping
Kelantan offers a fascinating variety of local handicrafts. This is supplemented by merchandise from Thailand that is available at the Malaysian border towns of Rantau Panjang and Pengkalan Kubur. In the shops, richly coloured silks are displayed alongside batik scarves, prints and songket textiles.
New Central Market
In the mornings, the pulse of Kota Bharu is the Central Market (renamed the Siti Khadijah Market). The majority of the traders here are women and the profusion of colours, aromatic and sounds bear testimony to the variety of goods on sale. Fruits and vegetables of all colours, shapes and sizes are everywhere while cakes, spices, sweetmeats, preserved foods, pickles and dried seafood flood the senses with their scent.
Bazaar Buluh Kubu (Bamboo Fort Bazaar)
This three-storey shopping complex is stocked with just about everything imaginable and at bargain prices as well. The sheer variety of locally made souvenirs, fine silverware and imported Thai goods leave you in awe. A wide choice of clothes, t-shirts, sarong and hats are also offered at reasonable prices.
Jalan Temenggong
Virtually the whole street is lined with craft shops selling gold and silver jewellery, textiles, brassware and woodcarvings. Be prepared to bargain and search for the best deal.
Cottage Industries
Kelantan's cottage industries are found mainly on the outskirts of Kota Bharu with the majority being not more than 10 km from the town centre. For silver craft, Kampong Marak, Kampung Sireh and Kampung Badang are the most well known. Famed for their intricate designs, Kelantan silverware offers traditional and decorative items from vases to jewellery.
Only 4 km north of Kota Bharu at Kampung Penambang is a 'songket-weaving' factory. Here silk material is woven with gold and silver thread. Originally the silk material came from Thailand while the gold and silver threads were imported from India. The use of songket material was once reserved for royalty but now it is used for ceremonial occasions and weddings.
Batik factories are found in Kampung Putih, Kubor Kuda and Kampung Badan. A visit to a batik factory gives an insight into the process of batik printing. In the past, basic cotton materials were printed using the stamp block method. Now much more sophisticated methods are used on a variety of materials, both for attire and as wall hangings.
Kelantan woodcarving is perhaps among the best in the region. Carvers produce ornate mirror frames, headboards, decorative panels for wall mounting or free standing lamp stands and more. The great majority of the designs reflect floral motifs and Islamic scriptures. The art of kite making, although not restricted to Kelantan, is of the highest order.
Kites of all shapes and sizes take to the skies especially after the harvest season and Kelantan kites are without doubt the finest in the land. Requiring tremendous skill and patience, the art of kite making is usually handed down from father to son. Some of these kites carry names such as 'Wau Merak' (peacock kite). There are numerous shops in Kota Bharu and many more along the road to 'Pantai Cahaya Bulan' selling and displaying a vast array of gaily decorated kites.
Home stay
To experience the daily life of a typical Kelantan Malay family, you can arrange to stay with a family of a farmer, fisherman, kite maker, silversmith, batik manufacturer or a top maker. You can learn how to plant or harvest paddy, tab rubber, makes fish traps and participate in traditional games like silat and sepak takraw. For more information, contact the state tourist information centre to make the necessary arrangements.
Accommodation
Chalet Sri Ketitir
Bandar Baru Gua Musang,
Gua Musang, Kelantan.
Tel: 09-9121235
Fax: 09-9121044.
Chalet Sri Tujuh
Pantai Sri Tujuh, Tumpat
Kelantan.
Tel: 09-7211753.
Crystal Lodge
124, Jalan Che Su,
15000 Kota Bharu, Kelantan
Tel: 09-7470888
Fax: 09-747 0088
Diamond Puteri Hotel.
Seksyen 9, Jalan post Office lama
15200 Kota Bharu, Kelantan.
Tel: 09- 7439988.
Fax: 09- 7438388.
Dynasty Inn
2865-D&E Jalan Sultanah Zainab,
15050 Kota Bharu, Kelantan.
Tel: 09-7473000
Fax: 09-7473111
Hostel Pantai Timur
Lot 391, seksyen 27, Jalan Kebun Pantai,
Kota Bharu, Kelantan.
Tel: 09-7483753.
Hotel Ansar Inn
Jalan Maju, 15000 Kota Bharu, Kelantan.
Tel: 09-7474000
Fax:09- 7461150
Hotel Gua Musang
Bandar Baru Gua Musang,
Gua Musang, Kelantan.
Tel: 09-9122121/9122929
Fax: 09-9122121
Hotel Mawar
Bangunan Mawar Jalan Parit Dalam, Bandar Kota Bharu,
15200 Kota Bharu, Kelantan.
Tel: 09-7448888/7440000
09-7400110
Fax: 09-7476666
Hotel Perdana.
P.O.Box 222, Jalan Mahmud
15720 Kota Bharu, Kelantan.
Tel: 09-7485000
Fax: 09-744762
Hotel Sentosa
No.3180-A, Jalan Sultan Ibrahim
15200 Kota Bharu, Kelantan.
Tel: 09-74432000
Hotel Tanah Merah
Taman Tasik, Tanah Merah, Kelantan.
Tel: 09-9557682 / 9557398
Fax: 09-9557398.
Hotel Temenggong
Jalan Tok Hakim
15000 Kota Bharu, Kelantan.
Tel: 09-7483481
Fax: 09-7441481
Johnty's Malaya Villa
Lot 882, Jalan Kebun Sultan
Kota Bharu, Kelantan
Tel: 09-7448866.
Juita Inn
Pt 60-64, Jalan Pintu Pong
15000 Kota Bharu, Kelantan
Tel: 09- 7446888
Fax: 09-7445777
Kencana Inn
Jalan Padang Garong
Kota Bharu, Kelantan.
Tel: 09-7447944
Fax: 09-7440181
Kesedar Inn
Gua Musang, Kelantan.
Tel: 09-9121491
Fax: 09-9122121
Menora Guest House
Wisma Chua Tong Boon
Jalan Sultanah Zainab
Kota Bharu, Kelantan.
Tel: 09-7481699.
Nikmat Lodge
Jalan Tengku Besar, Kota Bharu, Kelantan.
Tel: 09-9104070
Pantai Cinta Berahi Resort
Pantai Cahaya Bulan, Kota Bharu, Kelantan.
Tel: 09-7732307
Fax: 09-7741466
Pantai Irama Motel
Bachok, Kelantan.
Tel: 09-7788462
Perdana Beach Resort
P.O.Box 121, Jalan Kuala Pa'amat,
Pantai Cahaya Bulan
15710 Kota Bharu, Kelantan.
Tel: 09-7744000
Fax: 09-7744980
Perdana Stong Hill Resort
Kampong Jelawang
18200 Dabong, Kelantan.
Tel/Fax: 09-7476100
Renaissance Kota Bharu Hotel
Kota Sri Mutiara, Jalan Sultan Yahya Petra,
15150 Kota Bharu, Kelantan.
Tel: 09-746 2233
Fax: 09-7461122
Safar Inn
Jalan Hilir Kota
15300 Kota Bharu, Kelantan.
Tel: 09-7478000
Fax: 09-7479000
Square Point
Jalan Pengkalan Chepa
15200 Kota Bharu, Kelantan
Tel: 09-7433333 / 7432333
Fax: 09-7438333
Sri Chalet
Taman Tasik Sri, Tanah Merah, Kelantan.
Tel: 09-9556626
Fax: 09-9556300
Sutera Inn Prima
Jalan Dusun Muda, Off Jln. Bayam
15200 Kota Bharu, Kelantan.
Tel: 09-7441000
Fax: 09-7442000
Taman Rehlah
Pantai Bisikan Bayu Semarak
Pasir Puteh, Kelantan.
Tel: 09-6919887
Fax: 09-6918358.
Town Guest House
Jalan Pengkalan Chepa
Kota Bharu, Kelantan.
Tel: 09-7432521.
State Tourist Information Centres
Jalan Sultan Ibrahim
15050 Kota Bharu, Kelantan.
Tel: 09-7485534 / 7483518
Fax: 09-7486652.
Travel Bureaus
Batuta Travel & Tours
Tel: 09-7443652
Gloways Travel & Tours
Tel: 09-7481833
KUB Travels
Tel: 09-7484870
Sino American Travel Corp
Tel: 09-7485099
Super Services Travel Agency
Tel: 09-7444999