Kangar, 56 km northwest of Alor Setar, is the state capital set amidst a vast expanse of green paddy fields that turn a golden yellow at harvest time. A major landmark of the town is the state mosque, Masjid Alwi. A small town, Kangar's stadium, general hospital, hotels and schools are all within walking distance.
Arau
Kuala Perlis
The coastal fishing town of Kuala Perlis, 13 km from Kangar is the major departure point for the fabled Langkawi island and has a ferry terminal for island bound passengers. The town of Kuala Perlis has just a couple of streets with plenty of restaurants, which are popular for seafood, and the local speciality of 'laksa' (rice noodle dipped in a fish-based gravy).
Chuping
Chuping derived its name from the limestone hill known locally as Bukit Chuping. It has an area of 22,000-hectare sugar plantation and harvesting takes place in December till June.
Padang Besar
This is a border town. It can be said with some degree of truth that Thailand and Perlis merge in this town, because the border is unseen although the relevant signboards and checkpoints bear testimony to the fact. The town is also the major stopover from rail travel to Thailand. Beyond the rail tracks is Pekan Siam-a bargain hunters' paradise. Besides agricultural goods, duty free shopping is also available in Padang Besar. The town is filled with all shades and designs of textiles, footwear, handicrafts, decorative items, foodstuff, souvenirs, fruits and much more.
Kota al-Marhum Kayang
In the same vicinity are located the burial grounds of two of the 16th century sultans of Kedah. These are now seen as simple mausoleums marked by gravestones with remnants of wood used to mark the site. Nearby too, is an area of land believed to be the site of one of the sultan's palaces surrounded on each side by limestone hills. This is reminiscent of the palace built by Almarhum Sultan Dhiauddin Almukaram Shah of the late 16th century who had given the name of Indra Kayangan to Perlis then. Two of the Sultan's personal efforts are still evident today. One is a partially enclosed spring, which supplied fresh mineral water to the palace and is still seen intact today. The other is the canal built by the Sultan in about 1680 connecting Alor Setar to his palace in Kuala Perlis and from the palace to the burial grounds, thus permitting boat passages between the points.
Tasik Melati
Tasik Melati is a small but picturesque lake located in a partially marshy lowland about 8 km north of Kangar. The lake is shallow. More than 150 sandbar-islands may be seen all over the lake. Sampans can be rowed to these tiny 'islands'. Elevated walkways are also found over the waters of the lake, providing vantage viewpoints and seating for visitors. There is also a parameter walkway as well as telephone kiosks and toilet facilities.
Snake Farm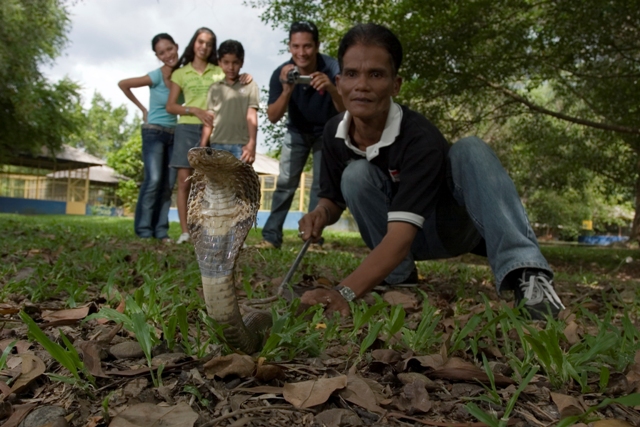 Perlis is noted for its large population of venomous snakes, the limestone caves and crevices offering the best of natural habits for the slithery creatures. The snake farm at Sungai Batu Pahat houses a large collection of 23 species of live snakes in large open-air enclosures. In addition, there is a crocodile and a fishpond. It is open daily from 10.00am to 4.15pm.
Admission fee. Adult RM2.00
Child RM1.00
Putra Golf Club
An 18-hole golf course, offers the golf enthusiast the challenge of a reputedly difficult par-72 course with its numerous obstructions and traps.
Hutan Lipur Bukit Ayer
Cool streams meandering through a lush tropical forest setting and waterfalls cascading excitingly into frothing rocky pool down below, make it an ideal location for picnic. It is 12 km from Kangar and it offers camping site, car park facilities and basic amenities to make your trip comfortable.
Gua Kelam, Recreational Park
Gua Kelam, Kaki Bukit refers to the 370-metre long limestone cave at the small town of Kaki Bukit. Its name literally means, "at a foothill (Kaki Bukit) lies a dark cave (Gua Kelam). Access to the cave is by way of a suspension bridge. The uniqueness of approach, as well as the experience of walking along the bridge, makes a visit to this place an intriguing and adventurous experience. A subterranean stream flows in the limestone range near Kaki Bukit for about a quarter of a mile long. As in other limestone areas, the stream has built a long cavern over the centuries. This physiographic phenomenon was enlarged throughout the length of the underground stream in 1935 by a resident Englishman who saw it as a marvellous way of transporting tin ore from a mine located near the stream entrance through the underground cavern. A wooden walkway hangs suspended throughout the length of the underground cavern providing a wondrous means of communication from Kaki Bukit to a valley on the opposite end-the Wan Tangga valley.
Admission fee: Adult RM1.00
Child RM0.50
Hutan Lipur Bukit Kubu
Hutan Lipur Bukit Kubu is a natural limestone cave in a forested limestone hill known as Wang Pinang, located near Kuala Perlis. The cave is an interesting geological formation. Bukit Kubu is now a 'cave park', sheltered and ideal for joggers and cave trekkers.
Wang Kelian State Park
The Wang Kelian State Park is a haven for nature lovers and eco-tourism buffs. Close to the Thai border, the 1,000 ha area in the Mata Ayer Forest Reserve is a treasure-trove of biodiversity. It contains one of the few semi deciduous forests in the country, closer in type and species to Thai vegetation. Its limestone forest is also rich in fauna, including birds, mammals and reptiles. A challenging jungle track leads from the camping area past a little tripping waterfall to the Gua Wang Burma cave system. Possibly the northern most cave in Peninsula, its narrow passages lead to chambers boasting interesting formations.
Perlis Craft Cultural Complex
The Perlis Craft Cultural Complex at Kuala Perlis, about 8 km from Kangar and 15 minutes drive to Kuala Perlis Jetty, is a must stop over for visitors. The complex offers a wide range of Malaysian handicraft such as delicate hand drawn batik, intricately carved silverware and an assortment of hand made items such as basketry, ceramics as well as rattan based products.
Taman Herba (Herbs Garden)
Adjacent to Bukit Air Recreational Park, on 12 hectares of land, are the Herb Gardens. Created in 1998, these gardens now contain over 6,000 species of herb, spice and traditional medicinal plants. Both local and exotic species from other countries are grown and visitors to the gardens can learn their uses and how to care for such plants.
Shopping
Farmers Market
Farmers sell their farm produce directly to consumers on a plot predetermined by the authorities. Non-farmers take advantage of the influx of buyers by selling their wares, which are non-agricultural. Prices are reasonable. Freshwater fish and prawn, vegetables and fruits galore, are all fresh as they come. The market is held from 8.00 am till 1.00 pm.
Days Place
Sunday Sena Indah
Monday Arau
Tuesday Taman Kemajuan
Wednesday Sena Indah
Friday Beseri
Satuday Sena Indah
Night Market
Pasar malam is an open-air affair where business is already brisk at 5.00 pm, and are very popular because of fiesta-like atmosphere. A pasar malam is held on an open ground or even a full stretch of a road or thoroughfare according to what has been approved by the local authorities. The police keep a friendly surveillance, especially when a road has been blocked off and passage impeded. A feature of a pasar malam is that it is held in a different place each night and the schedule is repeated week by week. In a sense, therefore, there is held once a week at a predetermined place at night.
Days Place
Sunday Utan Aji
Monday Padang Melangit
Tuesday Kuala Perlis
Wednesday Kangar
Thursday Pauh
Friday Arau
Satuday Jejawi.
Hotels
Kangar travellodge
135, Main Road
01000 Kangar
Tel: 04-9767755
Fax: 04-9761049
146 rooms
RM200-RM360
PENS Hotel Kuala Perlis
Jalan Kuala Perlis
02000 Kuala perils
Tel: 04-9854122
Fax: 04-9854131
25 rooms
RM75-RM92
Federal Hotel
104 A&B,Jalan Kangar
01000 Kangar
Tel: 04-9766288
Fax: 04-9766224
46 rooms
RM21-RM120
Malaysia Hotel
67, Jalan Jubli Perak
01000 Kangar
Tel: 04-9761366
25 rooms
RM30-RM50
Utara Semarak Resort
Batu Pahat
01000 Kangar
Tel: 04-9772233
14 chalets
RM50
State Tourism Office
State Economic Planning Unit
3rd Floor
Dato' Mahmud Mat Building
01000 Kangar
Perlis
Tel: 04-9761957
Fax: 04-9762951